Стипендіальна програма уряду Словаччини
(Scholarships for University Students, PhD Students, University teachers, researches and artists of the Government of the Slovak Republic)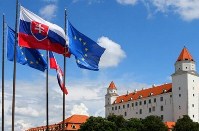 Уряд Словаччини виділяє стипендії для підвищення мобільності студентів, науковців, митців за всіма доступними спеціальностями. Тривалість стипендії залежить від програми: студенти-магістри – 1-2 семестри; аспіранти – 1-12 місяці; науковці та митці – 1-12 місяці. Необідне володіння англійською мовою.
Кінцевий термін подання документів необхідно уточнювати щорічно на сайті програми.
Детальна інформація: http://www.scholarships.sk/en/main/programme-terms-and-conditions/foreign-applicants